Perfect for the aspiring synthscape-explorers in your life, this nifty kit offers minimalist modular synthesis in pocket-sized pieces. Separate electronic building blocks—oscillators, filters, delay effects and more—snap together magnetically for easy re-assembly to spit out a range of erratically buzzy noises.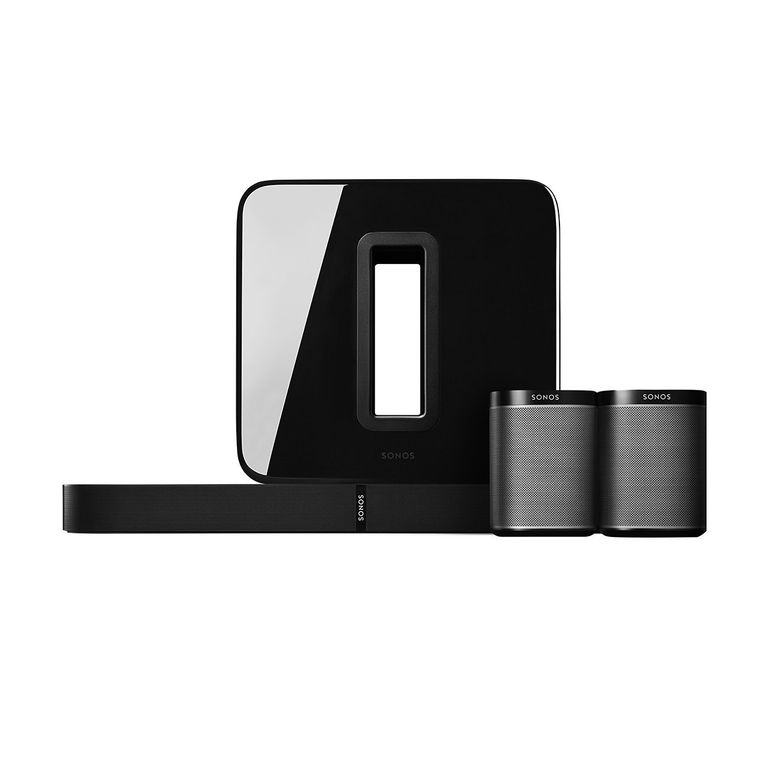 The JBL Flip 4 provides the best dollar-for-dollar sound quality of any Bluetooth speaker on the market. The portable speaker delivers surprisingly powerful stereo sound for its compact size, with crystal clear mids and powerful, room-filling bass from dual external passive radiators. Two smartphones can be connected at once, so it's easy to trade off songs without having to disconnect phones. One speaker is capable of filling a small apartment with rich sound, but if they want to transform a larger space into a party, then JBL connect+ allows them to connect more than 100 JBL speakers together to amplify an area. And don't worry about taking the Flip 4 into the great outdoors; the speaker is IPx7 rated which means it can be submerged in water and survive the elements. Choose from one of five fun colors.
Still can't decide on what you want? Our round-up of the best bluetooth speakers​ can help you find what you're looking for.
The latest iteration of Beats headphones is the best entry in the series by far, combining unbeatable Bluetooth capability with the most balanced sound Beats has produced. The overpowering bass has been toned down a bit to incorporate sonorous mids and highs, resulting in a dynamic and enjoyable listening experience no matter what genre. But what really excels is the wireless Bluetooth capability, which is the best on the market right now. Class 1 Bluetooth 4.2 can connect to any device instantly. If Beats pairs to one Apple device it will automatically show up to any device within range, bouncing between devices to connect with the closest one. The charge lasts for 40 hours and the range is up to 75 feet away, a remarkable distance for wireless headphones. The luxe colors draw heavily from Apple's understated metallic hue, while the leather is comfortable to wear.
Still can't decide on what you want? Our round-up of the best bluetooth headphones can help you find what you're looking for.
The UE Roll is a compact, waterproof Bluetooth speaker with a unique design, very good sound for its size, and decent battery life. It has an integrated bungee cord and an inflatable life preserver. that allows it to float in water.
Design: What's nice about the Roll is that you can lay it down flat or pull out its integrated bungee cord and hang it from whatever you want, including a shower head. Overall, the speaker has a nice sturdy feel to it and it's got some heft to it as well, weighing in at 11.8 ounces or 336 grams. A built-in rechargeable battery is rated for 9 hours of music playback and the speaker has a 65-foot wireless range, which is double what your typical Bluetooth speaker offers.
Performance: The sound is very good for a speaker this size and price and manages to hold together pretty well at higher volumes (to be clear, this is designed to generate background music, not drive a beach party). It impresses the most with acoustical material and like a lot of these speakers, is strongest in the midrange, with vocals coming across warmly and clearly.
For over 50 years Audio-Technica has incorporated the latest technology into their innovative music equipment, producing a range of audiophile-ready gear that is suitable for professional use. The AT-LP120 is their most popular turntable, playing vinyl records or converting them to high-fidelity digital files stored on a computer. A friend or family member can listen to their record collection at home or take the AT-LP120 in to the recording studio.
The fully manual turntable is built around a high-torque direct-drive DC motor with variable speed control and accurate quartz lock. Play records at 33-1/3rd, 45 and 78 rpm with +/-10 percent or +/-20 percent pitch adjust. The turntable is very well constructed for the price, featuring a S-shaped tonearm with anti-skate stability and easy adjustment for any record thickness. Anti-vibration damping materials and a heavy metal chassis cut out feedback when recording albums via the USB drive. This high-tech gift is sure to please even throwback music fans.
ROLI made its name with high-end, touch-based hardware instruments like the Seaboard, and more recently released BLOCKS, a new family of smaller and more affordable hardware units designed to provide tactile ways to control the company's NOISE app as well as other MIDI-controllable software. It was perhaps inevitable that this endlessly inventive company would find a way to bridge the two sides of their product lineup and so it proved, with the release of the Seaboard Block.
It's not strictly accurate to call Seaboard Block a keyboard, since although it vaguely resembles the layout of a piano, it works in a completely different way. Before we get to that though, a little on the hardware itself. It charges via the supplied USB C cable and has 2 octave switch buttons, a power button, mode button, a USB-C port, 4 DNA connectors and wireless Bluetooth connectivity that it uses to communicate with your iPhone 6 or higher, iPad Air or newer, or your computer.
Roli's modular, pressure-sensitive "Blocks" controllers might be far more affordable than the company's flagship product, the Seaboard, but they lack the complex responsivity of the latter's touch-sensitive rubber pads. Fortunately, the company combined the best of both worlds this year: The Seaboard Block packs all the same nuanced expressivity of its larger brethren into a miniature design that can seamlessly connect with the iPhone or other music-making interfaces.
Check this out – Best Sellers in Synthesizers & Workstations
You have the instruments, the mics and the songs—a USB interface is the last step to recording that debut EP. Along with the module itself, Focusrite also offers a copy of ProTools with this popular Scarlett series interface, so you can get started right out of the box. And for the audiophiles among you, the company recently updated its line with new mic preamps, greater sample rates up to 192kHz and increased headroom for hotter signals—in other words, higher quality audio, so your recordings come through crystal clear.
While most earbuds are cheap disposable things with barely passable sound quality, this pair of Etymotic Research ER4P earphones are audiophile-approved. Designed for sound engineers who want noise-isolating earbuds that they can take on the go, these earbuds sport an innovative design that produce true high-fidelity sound. The in-ear earphones use a unique design with balanced-armature receivers and are specially constructed for binaural recording enthusiasts and performing musicians who want to hear a response that is similar to monitor loudspeakers. The braided cable prevents tangling and reduces microphonic effect, while user-replaceable cushions protect the drivers from earwax and other debris. Etymotic also includes a protective carrying case that ensures safety during travel.
Still can't decide on what you want? Our round-up of the Best Wireless Headphones can help you find what you're looking for.
This Pioneer MIDI controller is a great way to help a hip hop or electronic music lover take their hobby to the next level. This portable two-channel controller is an excellent introduction to DJing, requiring nothing more than a laptop with Serato and some great tracks to get going. The large tactile performance pads and jog wheels are durable and responsive, while the four-deck control comes with dedicated buttons to switch channels is an effortless way to control music. The Serato DJ Intro software comes included for free, which makes for easy setup right out of the box, while Ableton compatibility allows someone to expand into producing their own music later down the line. Even if they've never DJ'd before, the Pioneer SB2 will get them up to speed in no time and turn a passive hobby into an active one.
Check this out – Best Sellers in DJ Controllers.
Give someone the gift of a wireless high fidelity home theater system with this bundle package from Sonos. The system combines Sonos's most popular items for a full 5.1 channel setup, including a Sonos SUB, a Playbase and two Sonos Play 1 satellite speakers. All of the equipment is wireless and can be setup in minutes and controlled from anywhere in the house with a smartphone app.
Each piece of equipment is thoughtfully crafted to deliver high quality audio. The Playbase is a full-theater soundbar that contains 10 amplified internal drivers and one woofer for complex sound with deep bass and crystal whispers, designed both to pick up quiet dialogue and play loud action sequences. The Sub delivers on the lowest frequencies, using a special acoustic chamber to perfect mid and high-range sounds. The Play 1's act as a rear speakers for complete surround sound that delivers immersive details to round out the listening experience. Altogether they create a wireless acoustic ecosystem that transforms the house into a musical sanctuary.
Hot new releases – Wireless Multiroom Systems.
Know someone with an old record collection gathering dust? Help them convert all their favorites to portable high-resolution files that capture that warm vinyl sound with the Sony PS-HX500. This USB turntable connects to PC via USB and converts records into DSD-quality recordings, while preserving all the smooth and warm sound expressions that are lost in remasters and digital files. The turntable is built with an integrated shell that improves durability and a stabilized cartridge for superior focus and dimensionality, while a built-in Phono EQ supports phono and line outputs for flexibility. An insulated structure, stable belt drive system and acoustic-grade MDF cabinet all give a professional quality that results in the best possible listening experience.
Check this out – Turntables Hot new releases!
The Emotiva Audio A-500 is an excellent building block for a home theater system, delivering audiophile sound quality at an affordable price point. Emotiva has two, five, seven and eight channel options, depending on how many speakers are in the setup. Each channel has 110 watts of clean power, two channels Driven with 20Hz to 20 kHz. The heavy duty insulated five-way binding posts allow for an uncluttered setup and the amplifier itself is thin with a minimalistic design that blends into the cabinetry. The well-tuned a/B output stage ensures smooth sound with incredible natural imaging, pushing the speakers to their limit without any harshness or strain. source: lifewire.com